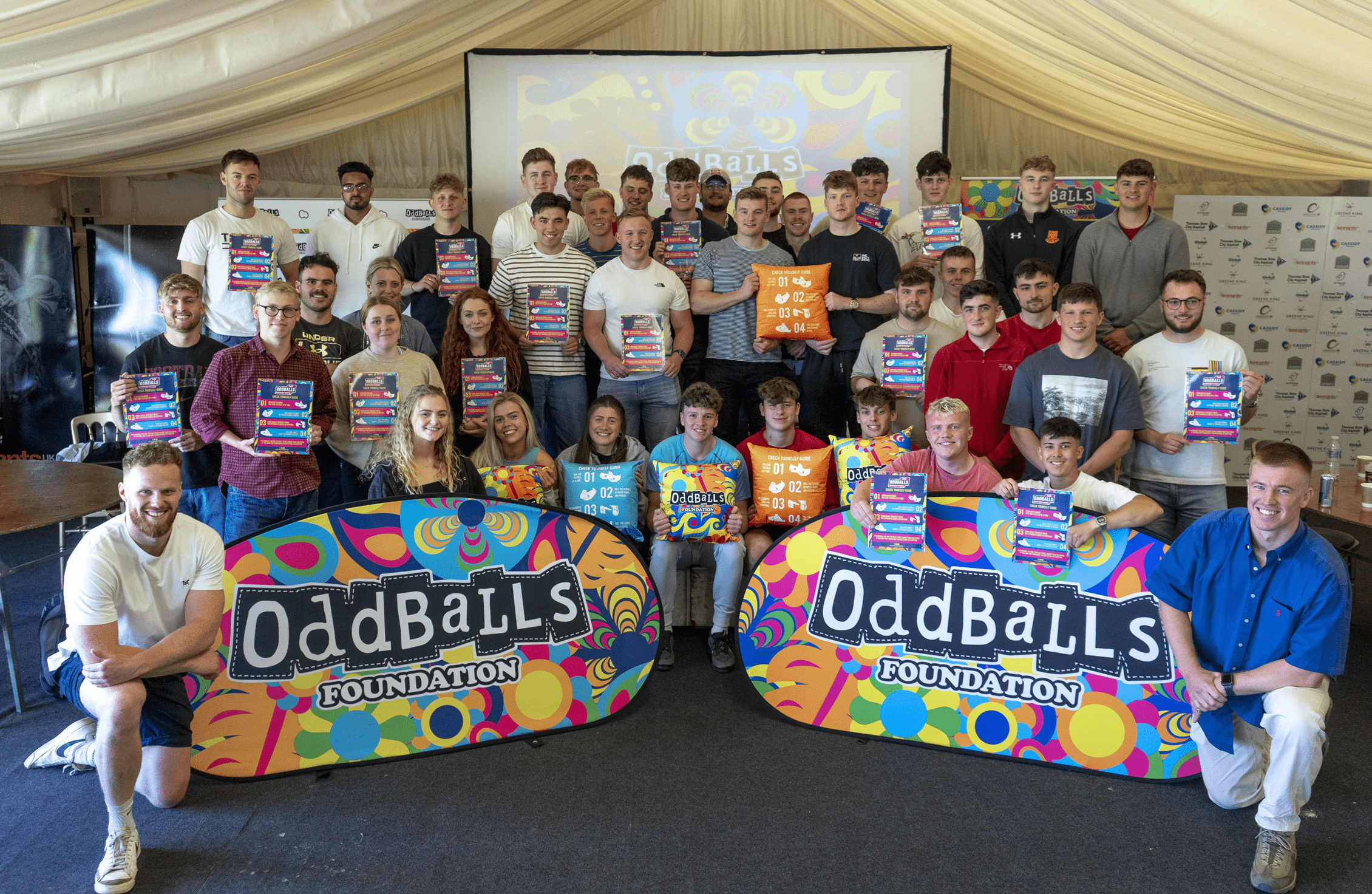 Become a University Ambassador
Applications are now open for the 2023/24 intake of our University Ambassador program.
Take a look at some of our previous Ambassadors in action below:
Interested in becoming an ambassador?
You can read all about the role below. When you are ready to apply, simply attach your CV and a short 1-2 minute video explaining why you are the right person for the role.
The deadline for applications is Friday 24th March at 14:00. Apply now!
ROLE

University Ambassador at The OddBalls Foundation

ROLE DURATION

One year (August 2023 - August 2024)

ROLE SUMMARY

As a University Ambassador at The OddBalls Foundation, your role will focus on continuing to grow the charity's work into both a student demographic and the surrounding region. You'll be raising awareness of Testicular Cancer through various diverse initiatives. You'll have an opportunity to continue in previous ambassador's footsteps, whilst putting your own spin on the role as well. 

NON-NEGIOTABLES

University students on a full-time course
Aged 18-24 years old
A full clean driving license
Self-motivated and reliable
Approachable and a confident public speaker
Excellent time management skills
Strong communicator 

ROLES & RESPONSIBILITIES

University Ambassadors will be expected to hit several different targets set by the Regional Ambassador Managers designed to raise awareness of Testicular Cancer and grow the identity of The OddBalls Foundation. 

Deliver a minimum of 12 school or college Testicular Cancer Awareness presentations
Deliver Testicular Cancer Awareness presentations to university societies, businesses, and other organisations interested
Install our Check Yourself guides in 90 different locations (30 per term)
Organise a fundraising event raising a minimum target of £500 supporting The OddBalls Foundation
Help distribute our Check Yourself cushions
Be creative on social media and support campaigns and post by The OddBalls Foundation
Raise awareness of Testicular Cancer -MOST IMPORTANTLY! 

TRAITS OF GREAT UNIVERSITY AMBASSADORS

A confident public speaker to a diverse audiences
A great communicator, both verbally and written, especially when liaising with schools or organisations interested in working with The OddBalls Foundation
Being organised and taking ownership of the opportunity
Being able to find a good balance between your academic studies, sporting commitments, social life, and the University Ambassador role (time management)
Embracing the opportunity and making it a part of your lifestyle!

WHAT'S IN IT FOR ME?

An OddBalls Foundation branded vehicle, insurance, and charitable related travel covered (Please note: our Central London Ambassador do NOT receive cars!)
Strengthen career prospects, countless opportunities for personal and professional development, and networking opportunities
Appraisals from The OddBalls Foundation Manager and Regional Ambassador Managers
Potential future employment -proven track record of providing opportunities for graduating ambassadors!
OddBalls stash!
Invitation to Ambassador Day's and The OddBalls Foundation Festival
An opportunity to make a significant difference to Men's Health and champion a great cause

APPLY NOW
The deadline for applications is Friday 24th March at 14:00. Apply now!